Chinese version to follow. 中文版本將隨後寄出。

March 9, 2020


"As nearby Japan and South Korea reel with thousands of infections, experts say Taiwan, an island of 23 million, has kept the virus at bay through early intervention, a slick command structure, well-rehearsed epidemic strategy and transparent communication that other countries including the UK could learn from."
The Telegraph
Taiwan sets gold standard on epidemic response to keep infection rates low
Dear FIRSTNAME LASTNAME,
I am writing this article for you to ponder as we prepare for Spring Break and pray for those who are ill from the Coronavirus here and around the world. Schools are shut down in Italy, three hundred million students in somewhere between 13 and 22 countries worldwide are not in classrooms, many schools in the United States are shut down, and at least four states in the U.S. have also declared states of emergency because of the virus. We are in a serious time of crisis, and I can think of few places I would rather be than right here in Taiwan where governmental and health actions seem to be acting proactively to protect all our children, and all of us. Now is a time for calmness, clarity, and leadership, to prove we truly are a community with ties that bind us together.
In one of my earlier emails to you I had pointed out that, as you all know, I am no epidemiologist but just a trained, dedicated educator and first-class worrier when our children are involved. It pained me when I recently read that a trained epidemiologist, Dr. Howard Merkel, wrote in the New York Times (Coronavirus School Closings: Don't Wait Until It's Too Late) that "when it comes to outbreaks of contagious respiratory infections, closing schools can help prevent many thousands of illnesses and deaths." When we closed TAS a few days ahead of the mandate, it was not because of medical or epidemiological information; it was to prepare for what seemed so clearly to lie ahead: a government mandated closure.
"My research on the long history of epidemics has taught me that when it comes to outbreaks of contagious respiratory infections, closing schools can help prevent many thousands of illnesses and deaths. Schools are community gathering places where large numbers of people are in proximity to one another and respiratory infections can easily spread among young people and adults alike. Shutting them down can be a key part of slowing the spread of easily transmissible viruses so that hospitals are not overrun with sick people, and it can help to buy time to allow for the development of antiviral medications, medical treatments or a vaccine."
Dr. Howard Merkel
Coronavirus School Closings: Don't Wait Until It's Too Late
Dr. Merkel's comments follow on the heels of the UNESCO declaration that 22 countries across three continents have announced or implemented school closures, indicating an unprecedented number of children not attending schools, many without immediate access to online learning and several not knowing when they might re-open.

Two weeks ago, China was the only country that closed schools nationwide.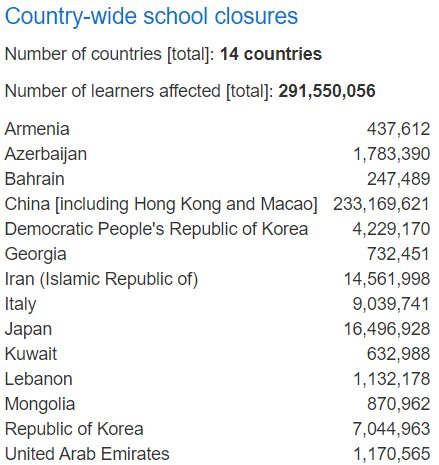 Since then, at least 13 other countries have shut down schools nationwide creating an "unparalleled" educational disruption. A further 9 countries have issued localized school closures.

In the United States a number of schools have closed and those that remain open are preparing to shift to online lesson plans, many of them unsure when they will re-open, and without the more than a decade of experience with digital learning that our TAS community has.

In California, a number of private and charter schools have closed due to localized incidents, prompting discussion about more widespread closures. Several cases prompted closure of schools in New York as well.

In Washington State, teachers in some districts have had to work with students to familiarize them with online platforms that will be used when schools closed on March 5; they are starting from scratch.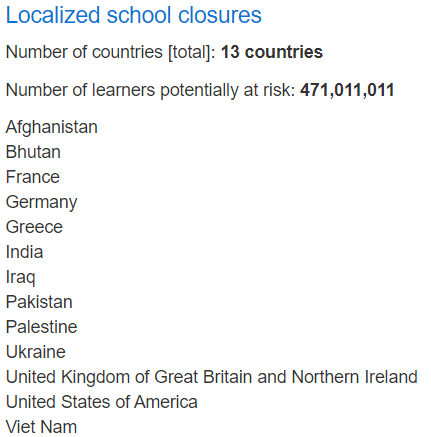 Despite the lack of precedent for school closure of this scale, digital learning is quickly becoming the 'new normal'.

I want to take this moment to share something with you that is worth knowing about TAS. Fourteen years ago, when I arrived, TAS could have been one of these schools: no systematic digital learning program; few teachers trained and enthusiastic about "anywhere, anytime learning" (the catch phrase of the day back in 2006).

The difference was that from the early 2000's, TAS had visionary Board members who understood the need to truly be that "innovative 21 st century school" where students are prepared to "succeed anywhere in a rapidly changing world."

Teachers and leaders were brought in who understood what was needed. People like David Sinclair, Technology Director, and US Math Teacher, Mr. Rob Sloan come to mind. Mr. Ira Weislow, COO at the time, saw the potential. Many teachers had the enthusiasm. What we lacked was community support, adequate investment in infrastructure, and the need to expand the numbers of highly effective teachers and educational technologist who could bring the vision to life.

As soon as I walked in the door in January of 2006, the Board, where members had been urging action in this area, set as a clear goal the need for me to see to the execution of the 1:1 program, as though they somehow knew just a decade or so later it would allow us to be in the forefront of virtual learning at a time when it has been, and may again be, critical to our children's education.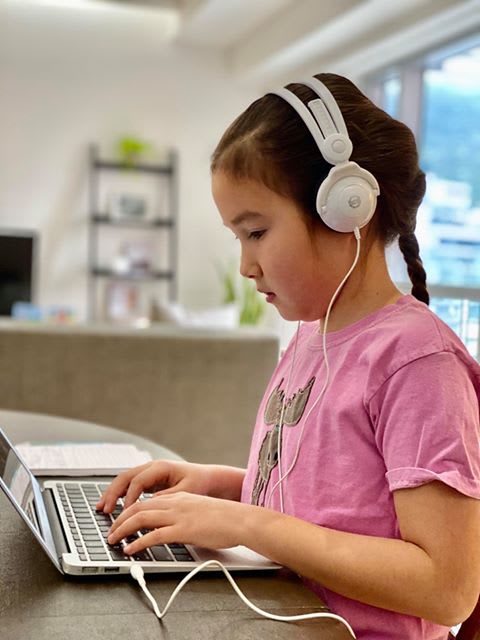 Let me be clear. I came from a prestigious preparatory school and had been at one of the very best public schools in New England. This "digital learning" was all new to me! But the Board who brought me here gave me concrete goals to achieve, including implementing the 1:1 program with all due speed. My very first hire, Dr. Richard Hartzell, principal of Harker School - a 1:1 institution - was critical in those early years. His leadership was instrumental. Yet this was no cake walk. How clearly I remember my first AGM in April of 2007 where well-established community members and established business leaders questioned, ridiculed, challenged and in many cases were quite abusive as I worked to advocate for this new program. But we had the people, the Board provided resources for training and Professional Development, and significant investments were made from the capital budgets to build a solid infrastructure and assure students all had the tools they needed in their hands. Parents contributed even back then so we had computer labs, and enthusiastic, trained people running them for our children. Over the years we have added five divisional educational technologists as well as a "dream team" of IT administrators and staff.

As I have written before, Taipei American School was fortunate to have a robust infrastructure in place, a pedagogical process that relies heavily on 1:1 student devices, appropriate training and support for teachers to utilize technological tools such as Canvas and Seesaw to further instruction. We were able to support our digital learners. Right now, China is supporting more than 180 million students with digital learning through a variety of government-supported platforms. The Italian government has created a website to give teachers access to videoconference tools and lesson plans. Mongolian TV stations are airing classes and Iran has made all children's content online free. We are not alone. And thanks to the vision and commitment of those Board members and dedicated faculty and administration before I arrived fourteen years ago, I was able to hit the ground running executing the plan that has evolved into the solid, reliable, unique Virtual Learning program we can offer today.

We have taken those advantages and leveraged them where we could. We have started to review what we did, and how well (or not) the students received instruction. As an institution we have gone through lessons that we have learned through digital learning while school was closed. We have gotten feedback from student focus groups, and we have reviewed what could have been improved for the next time around. We've worked hard at getting teachers more comfortable with the tools they will need to use during a closure, requiring them to attend trainings even after the school day. We are getting more well prepared for the subsequent closures, whether it might be because of COVID-19, or some other natural disaster. Not because we want it to happen, but because it might happen. Not because we think it will happen this year, but because we know it will happen some year, for some reasons, ones we may not even have heard about today.

Our Chief Information Officer, Mr. Dan Hudkins, continues working with each divisional team and the principals across the three divisions towards a goal of developing a document spelling out expectations across the institution for Virtual Learning during School Closures, putting in place the most robust possible continuity of education plan. With tech gurus surrounding him, led by Mr. Samuel Quek, and a team that just never quits, I am confident that should there be another time soon, it will build on what we learned from our first approach to long-term digital days, and make the program even better.

We started gathering information for this hopefully informative article on Saturday. As I write early Sunday morning additional closures have been announced, more people in more countries have been impacted, and we forge ahead, ever grateful that we have to date zero confirmed COVID-19 cases at TAS, ever hopeful our parents, faculty, staff AND children will enjoy the next two weeks until Spring Break, and come back to seasonably better weather and hopefully safer and saner conditions. But whatever they return to, my message to you today is this: we will be ready.

Please take a moment to count our blessings, plentiful as they are. May our students remain healthy, our families safe, and our teachers and staff as devoted as always. May you look to the school with the trust and confidence that no matter what our conditions may be, we will prioritize student health and safety, make decisions in alignment with that priority number one, and, should it be necessary, be fully prepared to provide one of the most mature and longest-standing Virtual Learning Programs any school could offer. We have come a very long way together, and only together will we continue down such a golden path, one that leads students to be 21 st century learners prepared to succeed anywhere "in a rapidly changing world." That is our mission, though I wonder if those who penned these words recognized just how profoundly their words would shape not just their vision then, but our commitments today.

Please know that you have someone who worries non-stop about your children, their health and safety, and their educational progress. You have divisional leaders determined to enthusiastically help your children have a GREAT year with or without more or different teaching and learning styles. If you recognized how many outstanding professionals come to work each day enthusiastic and committed to making that day the "best yet" for every student, it might help you relax a wee bit and trust in your school and its people to do right by each child. We are doing the worrying, the planning, the constant improving and all with a community-wide commitment to provide the very best teaching and learning for your children, the very best options and opportunities for them, and the very best learning outcomes each needs to achieve.

With that in mind, may you have the Spring Break you too so richly deserve, confident that this year will be looked back upon and remembered for the challenges and the angst so many had, and then you will stop and think: "But, you know, my children really did thrive as they always do at Taipei American School."

Faithfully,

Taipei American School
800 Zhongshan North Road, Section 6,
Taipei, Taiwan ROC 11152
Phone: +886.2.7750.9900
Fax: +886.2.2873.1641
Website: http://www.tas.edu.tw